Mechanisms of cardiac development and rhythm
|
4:00pm–5:00pm
Details
As part of our Monday seminar series, we are delighted to welcome our speaker:
Michelle Collins, PhD
Assistant Professor, Department of Anatomy, Physiology, and Pharmacology, College of Medicine, University of Saskatchewan
Hosted by
Jason Fish, PhD
How to join
An email including Zoom link will be sent to the LMP community.
If you are not part of LMP and wish to join this talk, please contact:
Louella D'Cunha
Speaker: Michelle Collins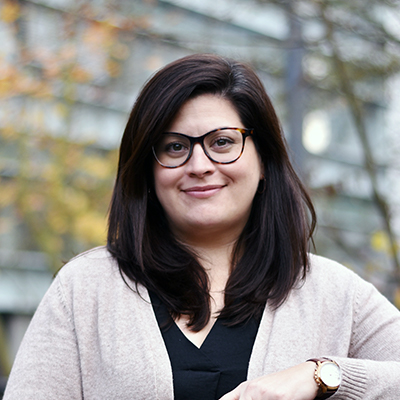 The goal of the Collins lab is to understand the molecular basis of cardiac development and function. Using the zebrafish model, we aim to identify genes required for heart development and understand how mutations in these genes lead to congenital heart defects. By taking advantage of the optical transparency of zebrafish, we can visualize the beating heart in the living embryo as it develops. We combine genetics, cell biology, and cardiac physiology approaches to investigate the molecular mechanisms underlying cardiac development and function.
Our lab also develops models to understand the genetic basis of inherited cardiomyopathies and cardiac arrhythmias. Many of these diseases have a significant genetic contribution that impacts the development of the heart. While we can identify these genetic mutations, we have an incomplete understanding of how these genes drive disease pathogenesis.
Our approaches in zebrafish allow us to understand the molecular and cellular mechanisms underlying these diseases. Building fundamental knowledge of heart formation and function enables our lab to contribute to a critical gap in knowledge about the genetic basis of cardiac diseases.
2021-09-27 20:00:00 2021-09-27 21:00:00 UTC Mechanisms of cardiac development and rhythm As part of our Monday seminar series, we are delighted to welcome our speaker: Michelle Collins, PhDAssistant Professor, Department of Anatomy, Physiology, and Pharmacology, College of Medicine, University of Saskatchewan Hosted by Jason Fish, PhD jason.fish@utoronto.ca How to join An email including Zoom link will be sent to the LMP community. If you are not part of LMP and wish to join this talk, please contact: Louella D'Cunha lmp.undergrad@utoronto.ca Speaker: Michelle Collins The goal of the Collins lab is to understand the molecular basis of cardiac development and function. Using the zebrafish model, we aim to identify genes required for heart development and understand how mutations in these genes lead to congenital heart defects. By taking advantage of the optical transparency of zebrafish, we can visualize the beating heart in the living embryo as it develops. We combine genetics, cell biology, and cardiac physiology approaches to investigate the molecular mechanisms underlying cardiac development and function. Our lab also develops models to understand the genetic basis of inherited cardiomyopathies and cardiac arrhythmias. Many of these diseases have a significant genetic contribution that impacts the development of the heart. While we can identify these genetic mutations, we have an incomplete understanding of how these genes drive disease pathogenesis. Our approaches in zebrafish allow us to understand the molecular and cellular mechanisms underlying these diseases. Building fundamental knowledge of heart formation and function enables our lab to contribute to a critical gap in knowledge about the genetic basis of cardiac diseases. Online via zoom webpac.noreply@utoronto.ca