What happened in Hive Two?
Hive One asked the overall questions "How do we shape the future of Laboratory Medicine and Pathobiology? How do we lead and integrate the disruptive innovations that are changing the face of LMP? Read more about what happened in Hive One.
In Hive Two, participants reviewed the themes developed in the first Hive and went more deeply into how to orchestrate the collaborations and structures needed for the desired future. 
In Hive Three, we will review the ideas from the first two Hives and focus in on "how do we create a thriving, inclusive community for everyone as we create this future together?"
In the first two Hives, the group discussed the many dimensions of evolution for the fields related to laboratory medicine and pathobiology, including but not limited to:
Shifts in the diagnostics that affect clinical training and roles, including less invasive tests, point of care testing, digitization, and more outpatient and chronic needs;
Opportunities to integrate AI and machine learning and large data from "omics", digital pathology to advance clinical diagnostics, research and education;
Exponential opportunities in omics, big data and advanced imaging for developing precision medicine;
A newfound recognition of the value of microbiology and virology;
Increasing focus on translational research and a need to bring together basic scientists and clinical laboratorians;
An increasing need for new approaches to education that enable more "precision learning" and individualized programs.
Overwhelmingly, the participants underlined the critical nature of collaboration, of trans-disciplinary connections, and to create more flexible structures around research, teaching, and clinical practice. 
The initial high-level goal articulated in Hive One was captured as:
LMP will be recognized as the "go-to" place for bringing together trans-disciplinary collaboration, translational research, and the newest technologies to transform the understanding of disease pathogenesis.
Over the two Hives, six broad priority themes were identified, all of which require new dimensions of collaboration and interconnectivity.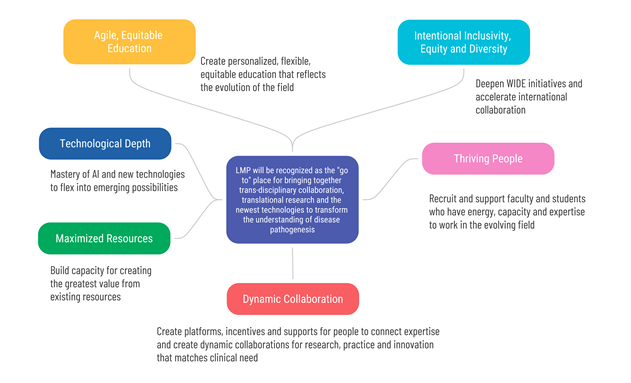 These are:
Agile, equitable education
Create personalized, flexible equitable education that reflects the evolution of the field.
Intentional inclusivity, equity and diversity
Deepen WIDE initiatives and accelerate international collaboration.
Thriving people
Recruit and support faculty and students who have the energy, capacity, and expertise to work in the evolving field.
Dynamic collaboration
Create platforms, incentives, and supports for people to connect expertise and create dynamic collaborations for research, practice, and innovation that matches clinical need.
Maximized resources
Build capacity for creating the greatest value from existing resources.
Technological depth
Mastery of AI and new technologies to flex into emerging possibilities.
What will happen in Hive Three
In Hive 3, we will review the many ideas generated in the first two Hives and will explore how to continue co-creating the truly inclusive, thriving community focus on equity that will enable LMP to move into this ambitious future. 
This is a particularly important conversation at this moment in time as we grapple with COVID fatigue and the heightened awareness of racial and other structural inequities, and how these affect our work and our community.