Happy Pride Month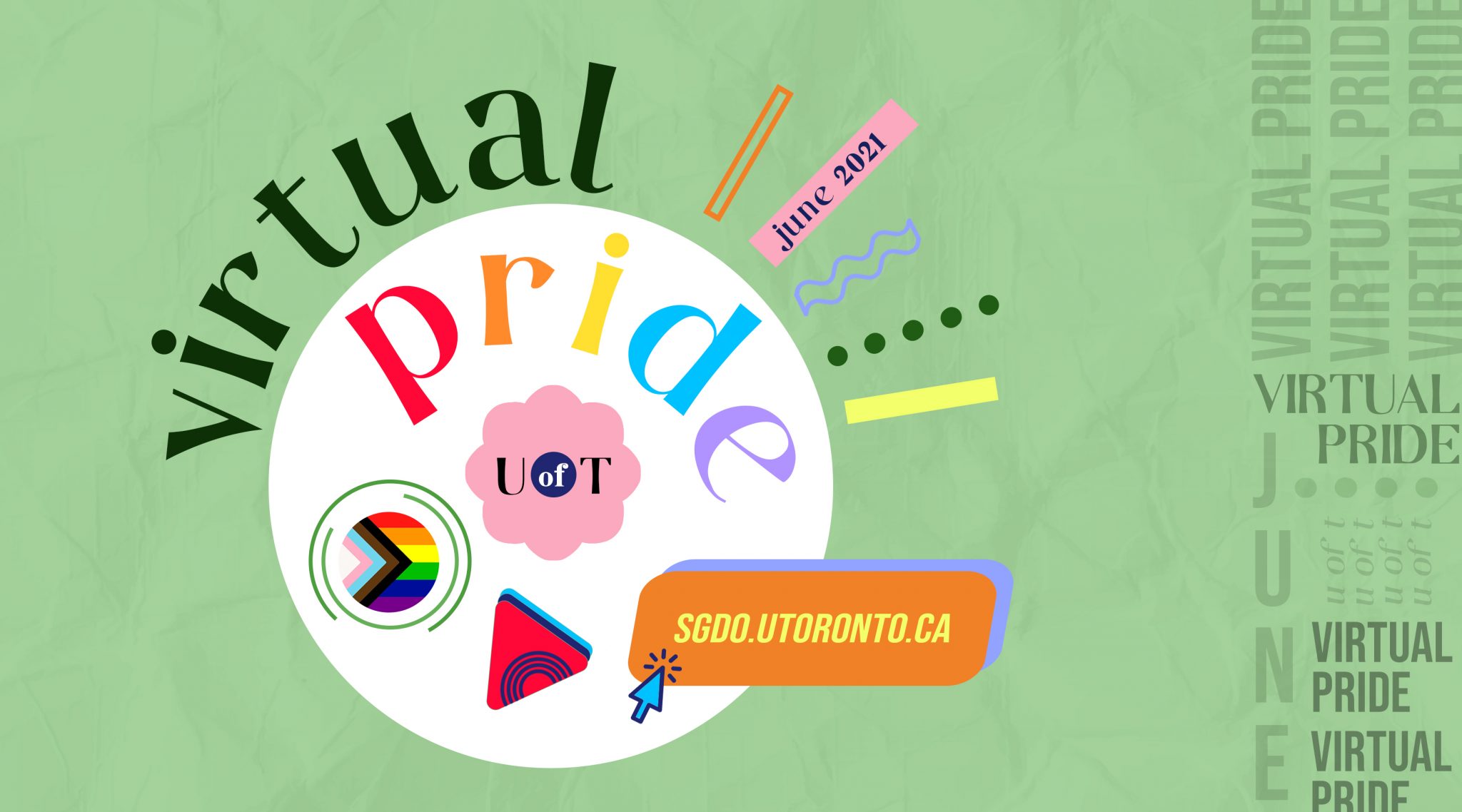 To celebrate Pride, the Sexual & Gender Diversity Office has a number of virtual events on its calendar.
Display your Pride! 
On Thursday, June 17th, 2021 all three campuses of U of T will be celebrating Pride Month and #UofTPride with the annual #DisplayYourPride event!
Staff, students, alumni and faculty are all invited to join in on the fun. Show off your creative flair and fabulous colours by decorating your office or student space in support of Pride! There are no limitations  – show us what YOUR pride looks like. Ways to get involved can be anything from decorating your door, to dressing up, to creating a piece of artwork, to putting up colourful balloons or painting your face – anything goes!
On June 17, post your photos on Instagram, Twitter or Facebook using the #DisplayYourPride and #UofT hashtags, as well as your campus' hashtag (#UTSC, #UTSG, or #UTM) and tag @LMP_UofT (Twitter only).
If you don't have social media, send your photos to lmp.communications@utoronto.ca and we'll post them for you!
Welcome to Wellness and Equity, Diversity and Inclusion (EDI) at LMP
Here you can access resources and learn more about our Wellness, Inclusion, Diversity and Equity (WIDE) committee.
The LMP WIDE committee is working to provide information, tools, resources that will promote a safe, supportive, and equitable environment for all learners, faculty and staff.
Current WIDE activities are designed to help recognize and minimize biases, provide clarity and transparency in expectations and processes, champion inclusion and diversity, become better ally, and promote well-being, individually and collectively.
LMP aims to foster academic, scientific, clinical and professional excellence in a thriving environment that is fair, respectful and composed of a broad range of members.
I invite you to learn more about our projects and contact us with questions and suggestions. Let us know if you are interested in joining our WIDE initiatives. We are defining our Term of References for the WIDE Committee and will be sharing them with you shortly. Stay tuned.
We can all be part of the change you want to see in LMP (and beyond)!
I am looking forward to working with you at LMP and WIDE.

Isabelle Aubert, PhD
Professor and Chair of the Wellness, Equity, Diversity and Inclusion Committee, LMP
Words of wellness
Flourishing above languishing
It has been fourteen months since COVID19 was declared a pandemic, and many of us are feeling exhausted, struggling to see light at the end of the tunnel. Recent articles in the New York Times caught my attention; they dealt with languishing and flourishing, two very different states of mind.
The first article, There's a Name for the Blah You're Feeling: It's Called Languishing, by Adam Grant, considered the state of languishing. This lies somewhere between thriving and burnout, where we are feeling 'okay' but lacking meaning and purpose. It was described as a feeling of "stagnation and emptiness". The article made the point that thriving and burnout are not absolutes, but points on a scale with many stages, including languishing, between the two.
The second article, Don't Languish, Flourish, by Dani Blum, spoke about the state of flourishing. She wrote "[flourishing] is living the good life … in a state in which all aspects of a person's life are good." We are thriving, living fully with meaning and purpose.
You may need a subscription to access these articles from The New York Times.
There are several actions that can help us move from languishing to flourishing and thriving. The good news is that these actions are accessible and simple!
Focus on small goals and celebrate small things. Tiny victories – finishing that report, cleaning a desk, finally getting to that email after 5 weeks – all these can and should be savored.
Practice gratitude. Creating a weekly ritual to reflect upon what we are grateful for. Personally, I feel good by doing this while commuting on Friday night.
Random acts of kindness. It is scientifically proven that helping others helps us flourish. Thanking someone for the role they play in our life. It can be a colleague, a family member or a mentor.
Look for significant others. As the weather gets warmer, reconnecting with those that fill a need in our life, those who help us smile, feel good and appreciated – someone to exercise with, a sports fan to commiserate with, or a dog park acquaintance.
Many of us are somewhere between languishing and flourishing. Using these few tips may help push the scale more toward flourishing. Thrive on!
Best,
Gino Somers
On Behalf of the Wellness, Inclusion, Diversity and Equity Committee