Healthy eats with Chef Reem Ahmed - a TRP Fitness Club event
|
3:00pm–4:00pm
Equity and wellness event
Details
Please join us for a healthy cooking session with Chef Reem Ahmed, a top 10 finalist from Season 5 of Master Chef Canada!
For LMP learners, faculty, staff or alumni.
Are you a student or faculty member at the University of Toronto? Do you find yourself short on time? So short that you find it difficult to whip up a healthy meal? Well, look no further...Chef Reem Ahmed is here!
Helping the TRP Fitness Club bring awareness to the importance of healthy eating, Chef Reem Ahmed, a top 10 finalist from Season 5 of Master Chef Canada, will be hosting a cooking class catered to busy University of Toronto graduate students and staff. This one-hour class will demonstrate a delicious and nutritious recipe (meat and veggie alternative included) that is both easy and quick!
Please join us on Saturday July 31, to learn some great healthy cooking tips and tricks!
A full list of what's cooking and the ingredients you'll need is available on the registration link.
Chef Reem Ahmed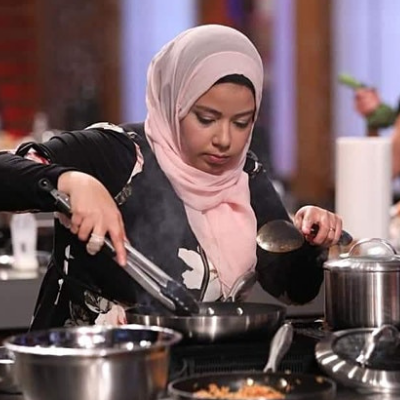 Chef Reem Ahmed moved from Egypt to Canada in 2008 to pursue a degree and career as a Biomedical Engineer. As an engineering student, she dedicated herself to working hard, being innovative, and constantly achieving great things. She held a job as a research assistant at Sick Kids hospital in Toronto while studying at university. Through her knowledge and experience, she set out to push herself even further, where she worked alongside a group of outstanding engineers to create a device that assisted patients suffering from dementia.
Upon graduating from university, Reem and her husband were blessed with their first child which prompted Reem to take a break from her career and give her full attention to her son. She soon realized that cooking was the perfect therapy that helped break her free from anxiety and depression, sparking a new aspiration to become a chef. As she pursued this new culinary path, she was selected as a contestant on MasterChef Canada, making her the first Muslim hijabi featured on the show. This experience allowed Reem to step out of her comfort zone and explore different cuisines from various cultures. Reem made it as a top 10 finalist on the show.
Today, Chef Reem – also known as Reem From the Heart – runs a successful virtual cooking class business and is often invited to speak and conduct cooking demonstrations at various events. She has been featured on CTV The Social, CP24 Breakfast, Cooking segment on City TV Breakfast Television, CBC, and BBC Arabic. Her bucket list includes the opening of her own authentic Egyptian restaurant as well as have her own cooking show on TV.
As she moves forward in her culinary journey, Chef Reem's ultimate goal is to inspire, motivate, and show all women, especially mothers suffering from postpartum depression and anxiety, that anything can be achieved if you set your mind to it, regardless of race or religion!
For live updates, follow her on Instagram: @chefreemahmed
2021-07-31 19:00:00 2021-07-31 20:00:00 UTC Healthy eats with Chef Reem Ahmed - a TRP Fitness Club event trp_cooking_-_graduway.png Please join us for a healthy cooking session with Chef Reem Ahmed, a top 10 finalist from Season 5 of Master Chef Canada! For LMP learners, faculty, staff or alumni. Are you a student or faculty member at the University of Toronto? Do you find yourself short on time? So short that you find it difficult to whip up a healthy meal? Well, look no further...Chef Reem Ahmed is here! Helping the TRP Fitness Club bring awareness to the importance of healthy eating, Chef Reem Ahmed, a top 10 finalist from Season 5 of Master Chef Canada, will be hosting a cooking class catered to busy University of Toronto graduate students and staff. This one-hour class will demonstrate a delicious and nutritious recipe (meat and veggie alternative included) that is both easy and quick! Please join us on Saturday July 31, to learn some great healthy cooking tips and tricks! A full list of what's cooking and the ingredients you'll need is available on the registration link. Register now Chef Reem Ahmed Chef Reem Ahmed moved from Egypt to Canada in 2008 to pursue a degree and career as a Biomedical Engineer. As an engineering student, she dedicated herself to working hard, being innovative, and constantly achieving great things. She held a job as a research assistant at Sick Kids hospital in Toronto while studying at university. Through her knowledge and experience, she set out to push herself even further, where she worked alongside a group of outstanding engineers to create a device that assisted patients suffering from dementia. Upon graduating from university, Reem and her husband were blessed with their first child which prompted Reem to take a break from her career and give her full attention to her son. She soon realized that cooking was the perfect therapy that helped break her free from anxiety and depression, sparking a new aspiration to become a chef. As she pursued this new culinary path, she was selected as a contestant on MasterChef Canada, making her the first Muslim hijabi featured on the show. This experience allowed Reem to step out of her comfort zone and explore different cuisines from various cultures. Reem made it as a top 10 finalist on the show. Today, Chef Reem – also known as Reem From the Heart – runs a successful virtual cooking class business and is often invited to speak and conduct cooking demonstrations at various events. She has been featured on CTV The Social, CP24 Breakfast, Cooking segment on City TV Breakfast Television, CBC, and BBC Arabic. Her bucket list includes the opening of her own authentic Egyptian restaurant as well as have her own cooking show on TV. As she moves forward in her culinary journey, Chef Reem's ultimate goal is to inspire, motivate, and show all women, especially mothers suffering from postpartum depression and anxiety, that anything can be achieved if you set your mind to it, regardless of race or religion! For live updates, follow her on Instagram: @chefreemahmed Online webpac.noreply@utoronto.ca